HIGHLY ENERGETIC. POSITIVE. COOL. URBAN. CONTEMPORARY.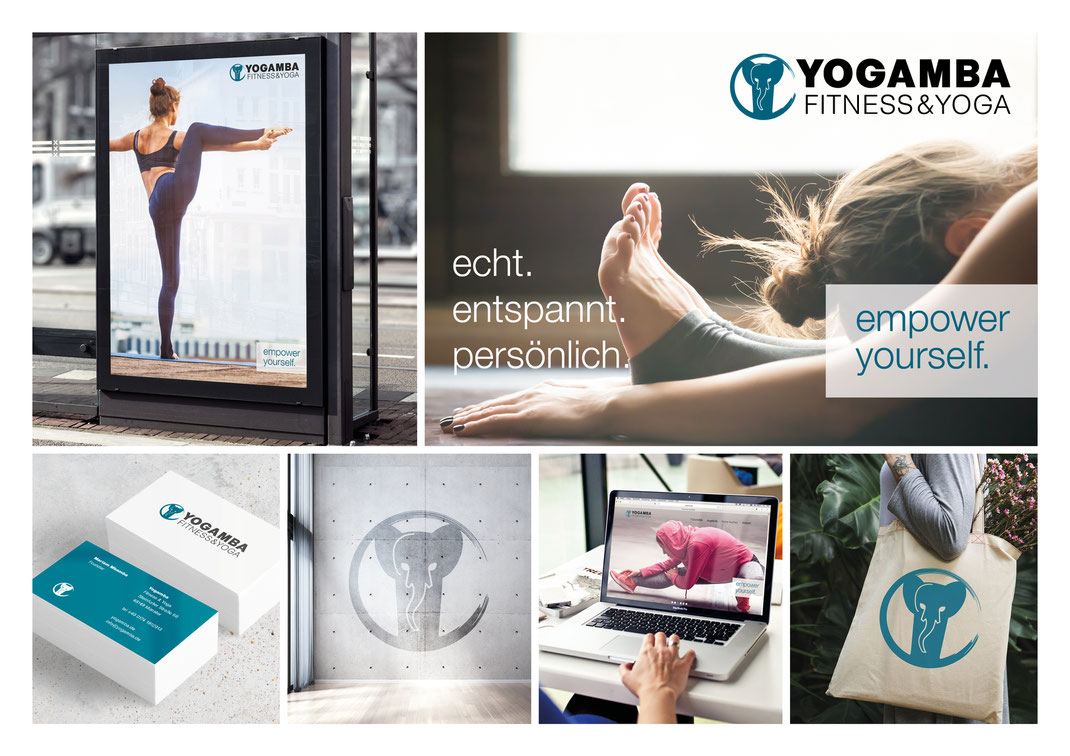 THE SOUL OF YOGAMBA
Mariam Mbamba, ultra-aktiver und extrem positiver Fitness & Yoga Coach ist die Gründerin und die Seele hinter YOGAMBA. Mariam will mit ihrer Marke Fitness & Yoga zu einem neuen gesamtenergetischen Lifestyle-Konzept fusionieren: auspowern mit Fitness, zu sich finden und neue Energie auftanken mit Yoga. Mariam bat BRAND BOUTIQUE um Unterstützung für die strategische Positionierung und das Design-Universum ihrer Marke. 
THE PATH TO YOGAMBA
BRAND BOUTIQUE Impuls:
Mariam ist YOGAMBA, YOGAMBA ist Mariam: Positioning & Identity sollen im starken Einklang mit ihrer einzigartigen und einnehmenden Persönlichkeit sein. Die entsprechenden ersten Schritte: ein intensiver Austausch mit Mariam. Ihre Welt, ihre Love Brands (allgemein sowie in Active Wear oder Athleisure), ihre Role Models u.v.m. dienten als Inspiration.
THE PHILOSOPHY OF YOGAMBA
BRAND BOUTIQUE Impuls:
Auch hier diente ein Interview vom Mariam als Fundament. Wie sieht sie ihre Rolle, was möchte sie im Leben ihrer Kunden erreichen? Ihr pointiertes Statement spiegelt perfekt die klare Philosophie der Marke wider:
"YOGAMBA ist ein Ort, an dem jeder alles sein darf, alles geben darf und von dem aus man energiegeladen und ausgeglichen wieder in die Welt startet. Bei YOGAMBA wird auf jeden Fall geschwitzt, gelacht, laute Musik gehört und geatmet. Der Rest kommt von allein." 
THE SPIRIT OF YOGAMBA
BRAND BOUTIQUE Impuls:
Ein klares, knappes Marken-Manifest: YOGAMBA ist EINFACH. ECHT. PERSÖNLICH.
Der passende Claim dazu: YOGAMBA. EMPOWER YOURSELF.
Damit ist alles gesagt.
So übrigens sehen wir Strategie, Storytelling, Content allgemein: ohne Blabla auf den Punkt gebracht.
THE LOOK OF YOGAMBA
Auch hier ein sehr klares Statement:
YOGAMBA ist CLEAN. COOL. CONTEMPORARY with a lovely twist. 
DETAILS FÜR DESIGN-FANS
Das Markenzeichen von YOGAMBA ist ein Tribut an die Gründerin und repräsentiert perfekt ihr Wesen und ihre Philosophie.  Mariam und ihre Marke sind energiegeladen, positiv, klar, voller Lebensfreude.
DAS LOGO hat bewusst einen sehr starken symbolischen Charakter:
Das Elefant: Inspiration: hinduistischer Gott Ganesha, Glücksgott und "Herr der Hindernisse". Ganesh steht für jeden guten Neuanfang und verkörpert Weisheit, Intelligenz und Stärke. Damit ist es eines der kraftvollsten Yoga-Zeichen. Und übrigens das Lieblings-Tier von Mariam, das sie sogar als beeindruckenden Tattoo trägt.
Das Ensō: Inspiration: japanischer Zen-Buddhismus. Der kalligraphische Kreis verkörpert Erleuchtung, Stärke, Eleganz, das Universum, wird als "Ausdruck des Moments" verstanden und von den Zen-Mönchen unermüdlich meditativ gezeichnet.
Beide Symbole, in diesem harmonischen Zusammensein, stellen das freie Bewusstsein, den freien Körper, den freien Geist dar. Die Kraft des Logos wird durch den begleitenden Claim noch gesteigert.
DIE FARBEN, aus der persönlichen Lieblings-Palette von Mariam ausgewählt, runden das Ganze ab:
Schwarz für Pure Power
Petrol-Blau für Gelassenheit sowie für die Natur-Elemente Luft & Wasser
DIE TYPOGRAPHIE entspringt aus der Helvetica Familie: stark, klassisch und zeitgemäß zugleich. Das definierte Feld um das Logo, klare Regeln wie z.B. die Proportionen zwischen dem Zusatz "FITNESS&YOGA" und dem Claim "EMPOWER YOURSELF" machen aus der Marke ein kraftvolles System. Auf eine einfache, ideale Nutzung auch für digitale Medien wurde stets geachtet.
WWW.YOGAMBA.DE
Kontakt: anne.luneau@brandboutique.biz
All copyrights @ BRAND BOUTIQUE | ANNE LUNEAU